Oxford Flood Alleviation Scheme flawed, campaigners say
By Claire Starr
Political reporter
<button class="ssrcss-d4g1xj-Button etotop31" type="button" aria-haspopup="true" aria-expanded="false">
Share
</button>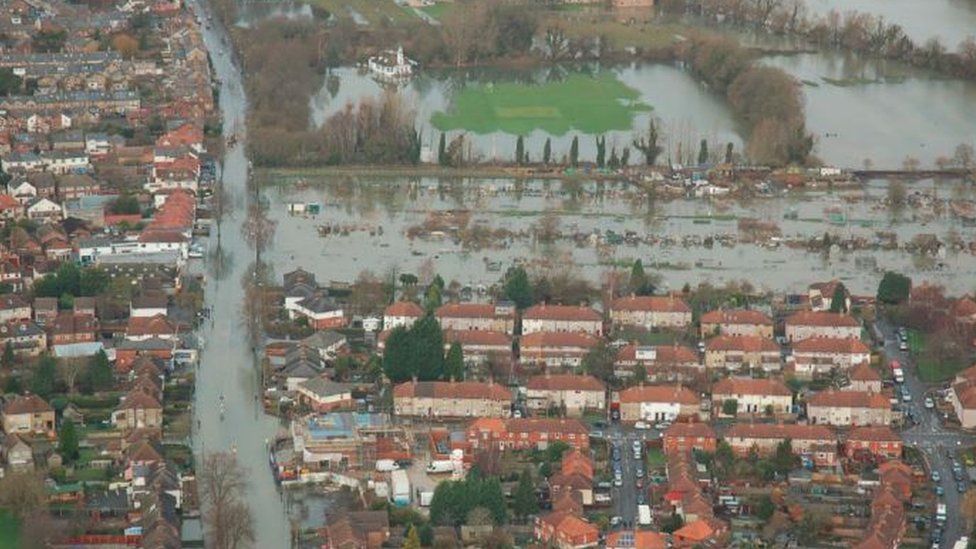 IMAGE SOURCE,

AIR EXPERIENCES
Image caption,
Oxford's roads were closed by flooding in 2014
A planned flood alleviation scheme in Oxford has fundamental flaws, campaigners have said.
The £150m project, one of the biggest in the country, would see a 5km [3.1mile] long stream or channel created to help take flood water.
But a meeting held by The Oxford Flood and Environment Group heard the scheme did not take new data on climate change and biodiversity into consideration.
The Environment Agency said it would provide better flood protection.
The new stream begins north of Botley Road and ends near Kennington, but critics believe it will not hold enough water.
They want the Environment Agency to reconsider and look at alternative options.
The open meeting, which was set up for residents to hear from experts, was attended by more than 100 people both in person and online.
Group member Patricia Murphy said: "Everybody wants a scheme and no one wants to trigger a public inquiry, but there are lots of people who have doubts.
"We are in a climate emergency. There's lots of evidence now that the carbon cost of capital building projects can be enormous and there are lots of very interesting developments looking at flood alleviation in a holistic way.
"We want a scheme that is future proof."
Parts of Oxford were affected by heavy flooding in 2007, 2012, 2013, and 2014.
A new planning application by the Environment Agency will be submitted by the end of the year, with a public consultation to follow.
It said: "We have considered more than 100 combinations of options to reduce flood risk from the River Thames in Oxford, working with the community every step of the way.